Introduction:
Our group, Gungnir Heart, was formed on December 3rd, 2016 after we broke off from a larger scanlation group. As such, we decided to form our own group so we could complete works to the best of abilities.
Our founding members are; Poitriot, our typesetter and cleaner, and me, NinetyTwo, the translator. At the moment, we do not have any other permanent members, but we do ask for temporary help for editing, TL checks, and raw provisions.
We focus primarily on the translation of Non-H doujinshi, but we are open to working on other projects as well such as games or anime. This may change in the future, but we are certain to continue translation Non-H doujinshi and manga for many years to come. So I hope we can be of service to both the original creators and the Internet community. If you have any questions, feel free to leave a comment and ask us! Thank you and have a good day!
Further Details:
Our group's name is a combination of Gungnir from Senki Zesshou Symphogear and Mahou Shoujo Lyrical Nanoha's Raising Heart. Two of our favorite anime series put into one name. Both are items that are essential to our heroes in battle. Thus we have been enamored by their unlimited determination to win. That inspired us to created Gungnir Heart.
One of our many expressions:
Remember why we type. – Gungnir Heart
Do it for them.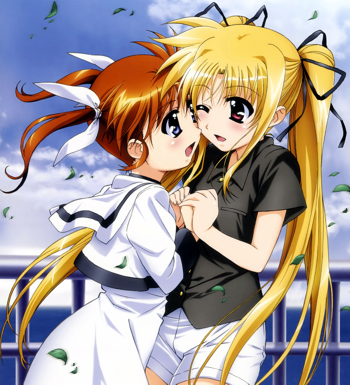 Staff Listing:
NinetyTwo (translator, editor, TL-checker)
Poitriot (typesetter, web designer, cleaner, editor)